With the technology of cars changing, so do the shops that repairs them have to change. One of the best things that could have happened to Tony's Body Shop is becoming a Tesla Approved body shop. Tesla has restricted parts so that not any shop can repair this car unless they are a certified shop. Some of the calibrations required when repairing such a car are done in-house. When repairing such a car, it is important to follow the Manufacturers written repair procedures to put the vehicle back into its original condition. In reading procedures, you find out what are "one time use parts" that need to be replaced and not re-used, you uncover what needs to be calibrated. Some may say repairing a Tesla is almost like repairing a plane, both have aluminum parts and require following manufacturer procedures to repair. Having this certification helped catapult the shop into what the new cars are going to become. Following repair procedures is becoming more and more common place with other makes as well. This is why it is important to try to get your car repaired at a certified collision shop. Proper repairs and a safe repair for the customer is super important. Having the proper training and the proper equipment is what separates one body shop from the next.
Choose

the Best Auto Body Shop
"Ask around, ask your friends, ask your neighbor, ask your mechanic, where is the best place to get your car repaired? We encourage you to do this. Voted best collision repair shop in Ventura County, thru VC Reporter. We thank you for voting for us!!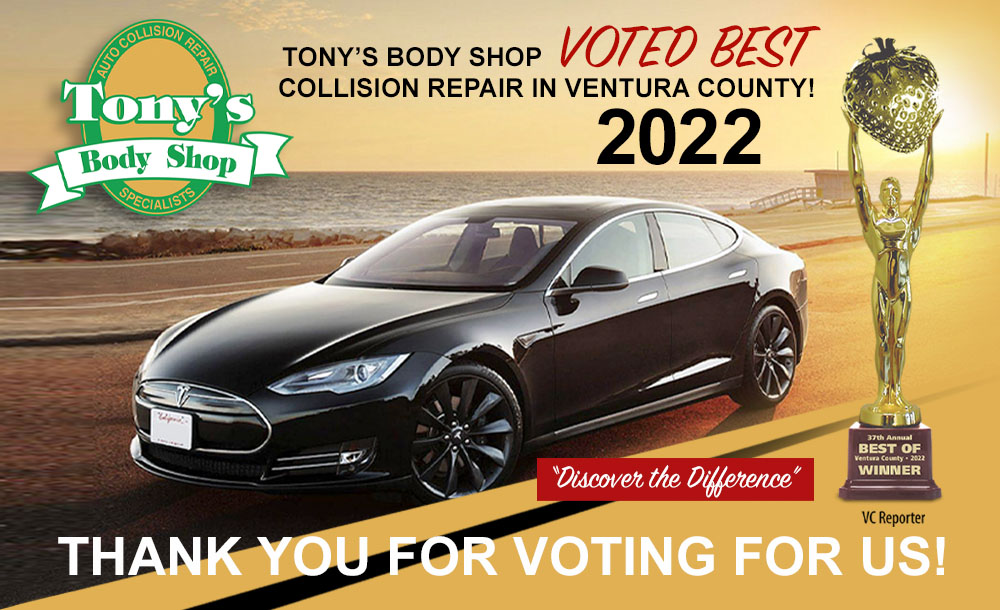 Discover the difference...
Factory Certified Auto Body Repair
Not all auto body shops are the same. You have the right to choose the repair shop, Customers only pay their deductible if they have one, we do the rest. Helping people with their collision damaged vehicles is what we do…
Call Tony's Body Shop for a Free Consultation on Collision Repair, Auto Body Repair Services, and more.
Fully Enclosed-Positive-Pressure Aluminum Room