Auto Body Repair Mechanics
We employ a full time mechanic to do all our collision related mechanical work. Not common at all in the body shop industry. I would say 95% of Collision shops do not have a full time mechanic. This is an advantage for Tony's Body Shop, for we are able to do in-house things such as: Four wheel alignments, Airbag replacements, Air Conditioning Re-charges, the removal of complete dash's to access repair work. In electric vehicles like Tesla's we sometimes have to remove the drive axle assembly, or even the entire battery pack to be able to perform the repairs. Some cars have damage to the wheels and suspension, and this all done in-house. If we need to remove the engine for access to replace the front unibody structure of a car, we do this in-house. Replacing steering components, engine cradles, Tire and wheel installs, all done "in-house".
Our mechanic has been with Tony's over 20+ years. Having an in-house mechanic means we have control over the quality of mechanical parts being replaced as part of the collision damage. Something as simple as a collision alignment is very different from what you get at a discount tire shop. Tire shops tend to do just enough to get by, where a collision alignment is done with the mindset that the car has been in an accident and finding all damaged parts are important for the safety of the customer and his family. Tire shops rarely set the steering angle sensor, but this is a must in a collision alignment, especially in today's new cars that have lane keep assist, parking assist, back up cameras, for this is how the system knows where the steering wheel angle is. These are many examples of the advantages that we have by having our own in-house mechanic. We do not do mechanical work for the general public, we only do the work as it is related to the collision damaged vehicle at our shop. Shops without a mechanic would have to send the work out to others, sometimes requiring a tow there and back since the vehicle is dis-assembled, the car sits and waits for parts to come in and the work to be done , and many times by different people.
Choose

the Best Auto Body Shop
"Ask around, ask your friends, ask your neighbor, ask your mechanic, where is the best place to get your car repaired? We encourage you to do this. Voted best collision repair shop in Ventura County, thru VC Reporter. We thank you for voting for us!!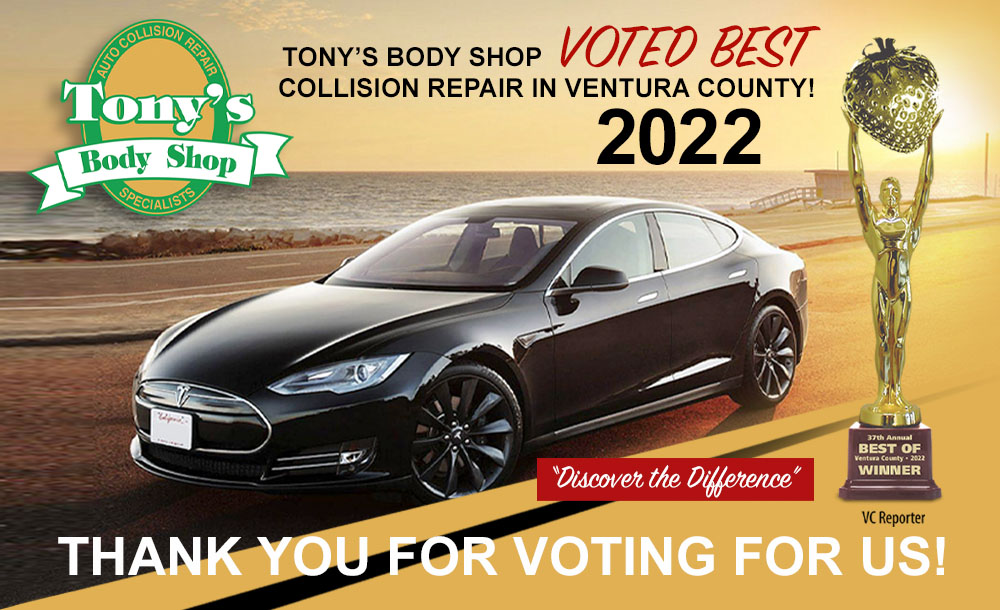 Discover the difference...
Factory Certified Auto Body Repair
Not all auto body shops are the same. You have the right to choose the repair shop, Customers only pay their deductible if they have one, we do the rest. Helping people with their collision damaged vehicles is what we do…
Call Tony's Body Shop for a Free Consultation on Collision Repair, Auto Body Repair Services, and more.