Auto Body Painting Service
We are using the Sikken's Paint products in our refinish process. Sikken's is considered a high-end product where quality and durability are important. What is important to us is the what ever we paint hold up equally as long as the original finish. Ever see a repaired car go "flat", have no shine after 2 or 3 years… this can happen if the shop is using a low-grade product. Can also happen if the finished product out of the booth is not clean and doesn't match the original texture – so the shop buffs the heck out of the finish to make it look good temporarily. Sanding and buffing the clear coat lessens the thickness of the clear and thus shortens the life – hence 2 or 3 year's and you see this "flat look". That is why properly trained people are important here at Tony's Body Shop to make sure what we do is equal or better than the factory finish.
Choose

the Best Auto Body Shop
"Ask around, ask your friends, ask your neighbor, ask your mechanic, where is the best place to get your car repaired? We encourage you to do this. Voted best collision repair shop in Ventura County, thru VC Reporter. We thank you for voting for us!!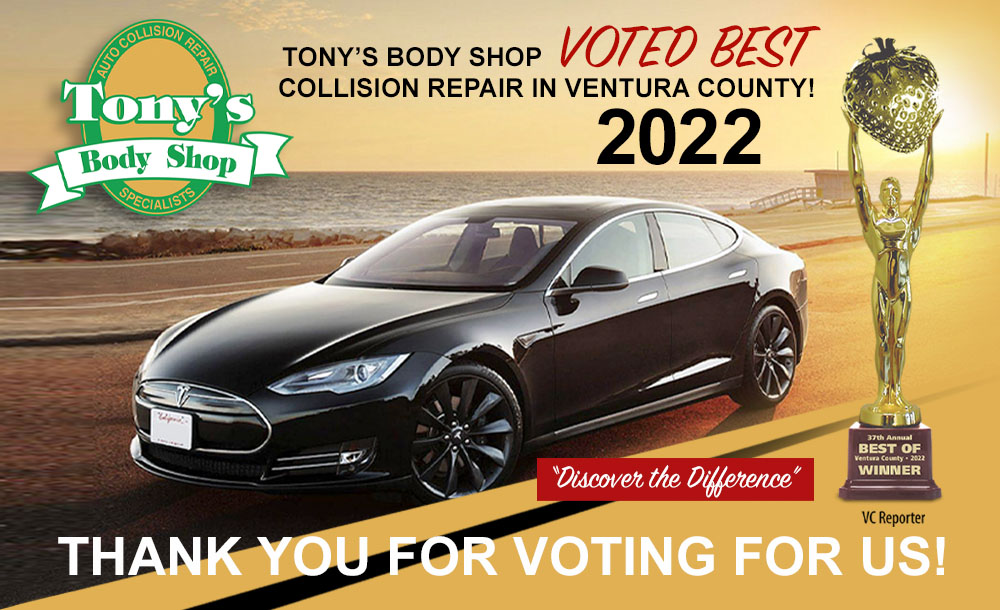 Discover the difference...
Factory Certified Auto Body Repair
Not all auto body shops are the same. You have the right to choose the repair shop, Customers only pay their deductible if they have one, we do the rest. Helping people with their collision damaged vehicles is what we do…
Call Tony's Body Shop for a Free Consultation on Collision Repair, Auto Body Repair Services, and more.